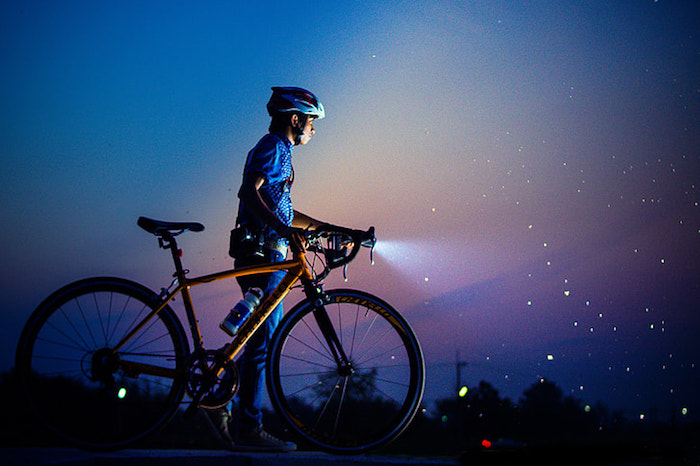 As the days get shorter and the nights draw in, it's a sure sign that winter's on its way and many people are put off by the idea of riding in the dark. However that needn't be the case as riding after the sun's gone down can be fun and, in many cases, it's a necessity if it happens to be your main form of transport.
Below is a choice of five of the best bike lights for winter cycling to ensure you can light your path and be seen where you're travelling and, above all, ride safely.
Unlit, Lit and Daytime Riding
LED technology has advanced so rapidly that impressively bright lights with really long burn times are all readily available. Your choice of light will depend on whether or not you're intending to ride on lit or unlit roads, also you may want to use your lights for added visibility during daytime. That is something to be recommended on some of the darker days.
On unlit roads you'll need something powerful at the front, so that you can see and be seen, such as a Lezyne Classic Drive 700XL which, with its 700 lumen output, is sufficient to light your way. On both lit and unlit roads, however, something less powerful such as the Lezyne LED KTV Drive Rear Light will be sufficient to make you visible to other road users. This bike light also has a wide angle lens offering over 180-degrees of visibility which will help you stay seen from multiple angles. Great for multiple lanes of traffic and busy, built-up areas where it's important to be visible.
A really useful function on the Lezyne Laser Rear Projector Drive 250 Rear Light and Lezyne Hecto Drive 500xl Front Light is the daytime flashing modes. Daytime visibility is often really underestimated by cyclists and this feature can really enhance it, increasing safety. With the Lezyne Laser Rear Projector Drive rear light you get run times varying between 2.5 hours on full blast and over 17 hours depending upon the other modes used and the Hecto Drive Front Light has a burn time of up to 20 hours. Another really cool feature on this Lezyne rear light is that it actually has two inbuilt lasers that add to the standard rear light by emitting two beams of light along the road surface. Angled slightly outwards from the bike, they are designed to increase the chances of drivers noticing the rider and encourage them to pass at a wider distance. In effect, these strips of light create your own safety bike lane.
Group Cycling in the Dark
When riding at night, if you're in a group, it often feels much safer because you've got so many more lights flashing around making you more visible to others on the road. Safety in numbers, as they say! The Exposure Lights TraceR Reakt + Peloton Rear Light has a great feature: Peloton. This mode actively senses other riders lights behind you and dims accordingly so they aren't distracted or blinded by the 80 lumen output.
---
The above recommendations give an idea for the best bike lights for winter but there is an enormous choice and you may have a preference for lights with more 'singing and dancing'! Have a look around the site and check out the different features and compare prices.